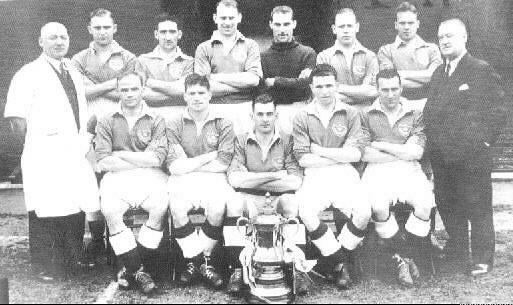 FA CUP WINNING TEAM
OFFICIAL NICKNAME: Pompey.
FIRST EVER MATCH: Chatham 0 v Portsmouth 1.
FIRST EVER SCORER: Harold Clarke.
RECORD ATTENDANCE: 51,385 Against Derby County,
DATE FIRST ENTERED FOOTBALL LEAGUE: 1920.
DIVISION ONE CHAMPIONS: 1949 AND 1950.
DIVISION TWO RUNNERS-UP: 1927 AND 1987.
DIVISION THREE (SOUTH) CHAMPIONS: 1962 AND 1983.
FA CUP WINNERS 1939 APRIL 29TH,WEMBLEY:
FA CUP RUNNERS-UP 1929 APRIL 27TH, WEMBLEY
FA CUP RUNNERS-UP 1934 APRIL 28TH,WEMBLEY
FA CUP Sixth Round, February 26th 1949.
POMPEY OLDEST PLAYER: Jimmy Dickinson, 40 Years Against Northampton, April 24th 1965.
MOST CAPPED PLAYER: Jimmy Dickinson, 48 Caps England (1949-57).